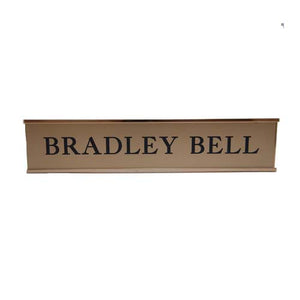 Desk Name Plates
One and two line options are available on each of our 2 standard sizes, 2x8 inches, 2x10 inches. Your second line is just $1 more. We also offer name plate holders.
Our customized Name Plates are available in a variety of colors, fonts and sizes. The most common sign colors for name plates are brushed silver or brushed gold; however, we have many other choices available. Please select your preferences.
If you don't see what you are looking for or need assistance with your order, please don't hesitate to contact us at info@disinctiveengraving.com or 801-756-3241.